Donnie Darko
So my final day, once the vague mohito haze had lifted, started with the realisation that Barcelona, like many other European cities, pretty much closes down on Sunday. This put a little dent in my plans — I had wanted to do a little shopping and see some other galleries, most of which were apparently closed. I couldn't even have my lovely café con leche from the food market as that was closed as well. Damn!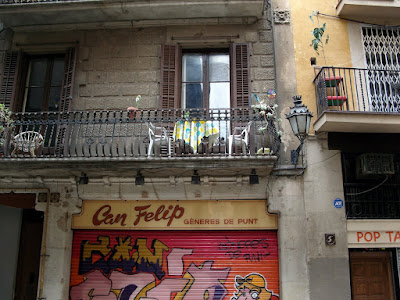 Right, change of plan — I figured I'd make my way over to see a little Gaudi and then up to Montjuic to the Fundacion Miro and the Mies van der Rohe and then head back to the town and finish up my day with coffees and bocadillos. A fine plan I thought. So a long walk, a lot longer than I could work out from the map, up to the Plaça d'Espanya and I was already tired. I wandered up into the hills and headed to the Fundacion Miro to find it closed — this was really disappointing, it was only 2 o'clock in the afternoon and it had just closed, I couldn't believe it.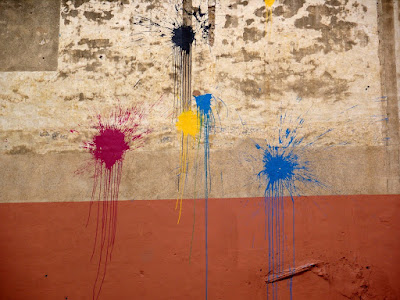 I didn't have the energy to walk over to the Mies van der Rohe so I headed back to the familiar territory of the Raval and Born and got back to the serious business of taking pictures, drinking coffee and generally hanging out in downtown Barca. These paint splats are everywhere — I love the CMYK sentiments, a man (or woman) after my own heart!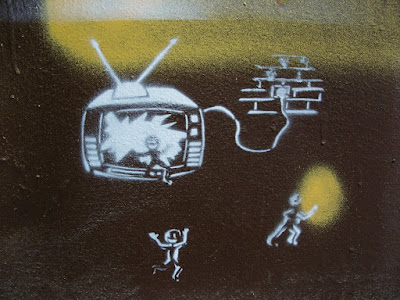 I love the stencil art in this town — there's just so much of it, I could have taken five times as many pictures. Like Paris there are many collage pieces as well, but I find the work here a little more original in approach if not quite so sophisticated.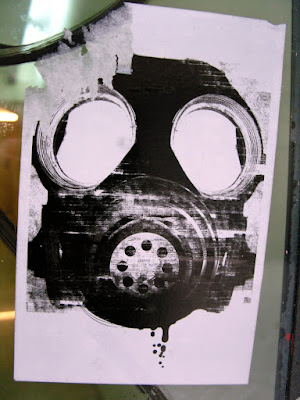 The piece below is by far my favourite of the trip — it has a wonderful Donnie Darko feel to it, its presence is amazing. This head was all there was but I feel there's a whole piece in there given the right canvas. Spooky.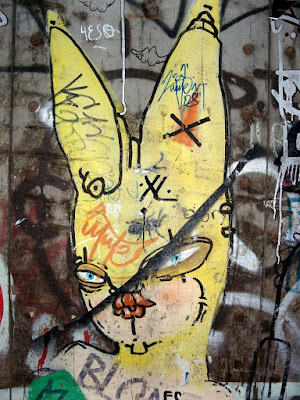 So my last day in Barcelona was a funny one, by turns frustrating and rewarding. I finished up with some tapas and beers in the Born and relaxed before getting back on the train for Paris. Nothing could quite match the lovely heat and sunlight of Saturday, wandering around the city in my t‑shirt, sampling the food and hitting the galleries. I've managed to see only a fraction of the things I wanted to but that just leaves more for next time.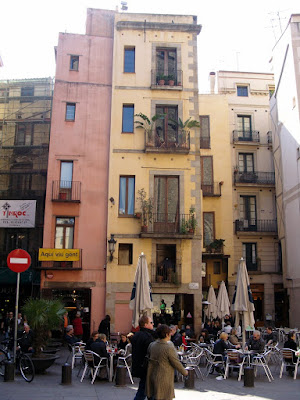 Like Paris this is a city I will continue to visit over the years. What a wonderful place.
---
Published:

Feb 24 2008 / 11:25 pm
Categories: