U B U W E B
Scouring the web, trying to replace my old Nova Convention tapes, I'd all but given up hope. It seemed that the world had forgotten about the Nova Convention.
Then I came across U B U W E B.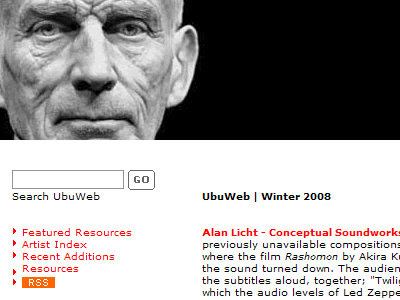 This excellent site has set out, for the last 10 years, to become a definitive repository for all manner of creative media — videos, poetry, sound, graphics, papers, books and essays. After locating the Nova Convention audio, I went on to check out interviews with Marcel Duchamp, Max Ernst and Broodthaers' Interview with a cat 4′54″. You could spend years looking thorough the archives on this site, there is so much to discover. Maintained by volunteers who spend their time digitizing old LPs, audio and video tapes, this is a fantastic non-commercial resource that deserves to succeed.
It's well worth a look.
---
Published:

Feb 17 2008 / 6:37 pm
Categories: