Fish fish fish
I love fish and I particularly like trout, stuffed and poached for just the right amount of time, served simply with boiled potatoes and some green vegetables. Lovely. Here's some I prepared earlier:
I managed to get the stuffing just right this time — one day I really must write this recipe down.
I know it includes (don't ask about exact quantities, I just make them up):
Three good handfuls of toasted breadcrumbs
One good handful of toasted almonds, crushed
One tomato, de-seeded and finely chopped
One onion, peeled and finely chopped
Two cloves of fresh garlic, finely chopped
Juice and finely grated rind of one lemon
A good size knob of melted butter
A small handful of fresh tarragon, chopped
A splash of extra virgin olive oil
A pinch of ground nutmeg
Salt and pepper
That sounds about right but it's not an exact science.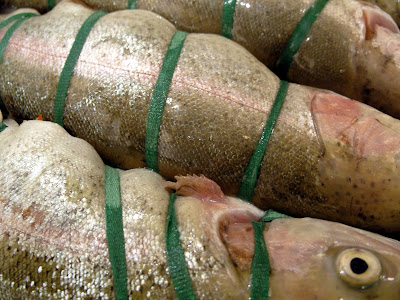 I thought they looked both beautiful and a little sad all tied up and laid side-by-side in my pan. They tasted delicious though.
---
Published:

Feb 12 2008 / 11:14 pm
Categories: